About Alive Alone
Alive Alone is a non-profit organization that publishes a quarterly newsletter for bereaved parents who have no surviving children. It was founded in 1988 just eight years after Kay and Rodney Bevington's only child, Rhonda, died just prior to her sixteenth birthday on July 24, 1980.
A Personal Touch
 Kay and Rodney receive at least 30-40 letters each week from parents, support group leaders, and professionals asking about Alive Alone. Each letter is personally answered by Kay or Rodney. Love gifts and memorials support the newsletter and are recognized with a personal letter from the Bevingtons.
What Makes Us Unique
 Alive Alone is unique as all the articles are original and not copied from other material. Bereaved parents, now childless, write the articles or professionals write the articles for this type of grief. Parents with no surviving children can now find friendship, understanding and hope from others like themselves as a result of Rhonda Bevington's life.
Rhonda's Story
The inspiration for Alive Alone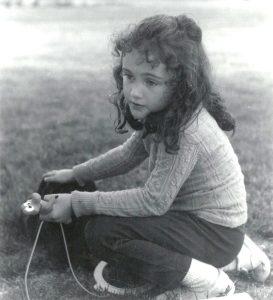 Rhonda had lived a healthy, happy, active life. She was full of enthusiasm, active in many school and church organizations and had many friends. She was at the age when she was beginning to be an adult.
Rhonda was ill with what was thought to be pneumonia, bronchitis, and laryngitis for ten weeks. The specialists decided that there should be a biopsy as the CT scan showed a possible mass behind the breast bone. The intentions was to remove what was there so she would be ready to begin school in a month. Rhonda died unexpectedly after the biopsy of a capillary collapse due to the anesthetic. A malignant tumor was found that was prohibiting oxygen to flow to the left lung properly and she also had lymphoma. This diagnosis had never been discussed as a possibility with her parents.
Kay and Rodney's lives changed abruptly after Rhonda's death. It was immediately evident that a support system would be needed to survive the ordeal of now being childless when their entire lives had revolved around Rhonda and her activities.
The Founding of Alive Alone
Excerpt of an interview with Kay & Rodney Bevington
This clip is part of a longer interview located in the "Members Only" section with Kay and Rodney on different aspects of the loss of on only child. Members of Alive Alone in good standing can request access to the members area by contacting the webmaster via email at webmaster@alivealone.org.
Alive Alone – The People that Make it Possible
Our Advisory Board & Volunteers
There is an Alive Alone advisory board. Retired members, Sara Ruble, mother of Scott, Linda Shaw, mother of Steve and Penny Young, mother of Matthew served in these positions for several years.  More recent newly selected members Kathy Grapski, mother of Lauryn, Susan Connolly, mother of Ethan, Jim Esworthy, father of Jaclyn & Jennifer, Roger Moroney, father of Kyle, Jean Campbell, mother of Kyle, and Sherri Albern, mother of Kali and Gwen Rice, mother of Sean assist Kay with various responsibilities.  Jean and Sherri plus her husband, Bob have assumed the responsibility of the care notes. Gwen networks bereaved parents according to the age and cause of death of the deceased children. Roger and Kathy assist Kay with updating the mailing list.
Several Alive Alone bereaved parent volunteers write personal care notes to active Alive Alone members near the birth and death anniversaries of their deceased children. Jean sends Hugs notes to the newly bereaved and Kay contacts each newly bereaved parent with an email, personal letter and packet of information. Jessica Armstrong, retired journalism professor assists Kay with editing the newsletter which is published and postal mailed five times each year.  Penny Young, retired English teacher assists Kay periodically with editing of printed brochures and special materials.  Roger is the current webmaster.
For more information or with questions, email us at alivalon@bright.net.